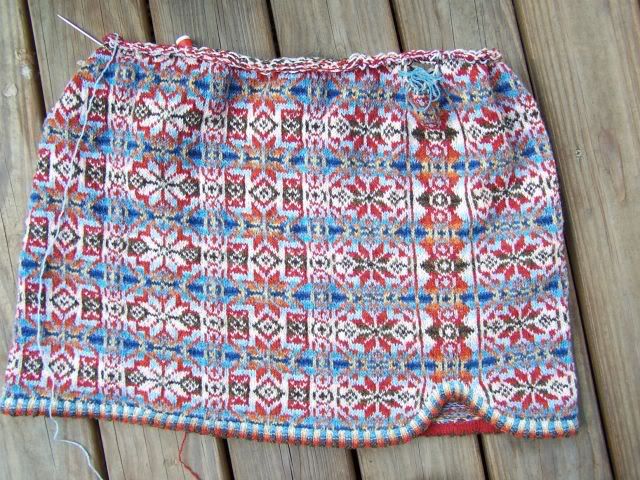 Just back from another short RV trip, this time up to Greenville and Kokadjo, Maine and then over to St. Andrews, New Brunswick. We cut west to east through an amazing expanse of unoccupied forests, broken occasionally by old farms. Never did see any moose but Canada geese are not in any danger of becoming extinct. They are everywhere. Stayed at a campsite at Northern Pride Lodge right on First Roach Pond at Kokadjo. Sat by the lake and knit and read after taking a very long hike. No noise, not many people, just a night sky almost white with stars. Moosehead Lake is still unspoiled and worth the trip. Town of Greenville is not the quaint logging town it used to be, it's two blocks of stores now being mostly tourist shops.
We returned to St.Andrews, New Brunswick, Canada for another visit to Kingsbrae Gardens, 27 acres of every perennial and ornamental tree you can imagine, all in full bloom. We spent several hours just walking around enjoying the color and variety and then had lunch at the tea room, a sampler of salmon and fruit and pastries - not very calorie wise but delicious. Walking through St. Andrews, I was again drawn to the Cottage Crafts knit shop and couldn't resist some light weight off white wool yarn. This should be perfect for "Beadwork", a Jade Starmore design. I liked the colors of the one ply yarns though there is no where near the variety and depth of color of Jamieson and Smith.
Somehow just happened to stop in Harvey, NB at Briggs and Little yarn store and another sweater worth of yarn made it into the truck. Bought "Knits from the North Country" a truly wonderful design/pattern book by all Canadian designers. Link is here to more details on the patterns - http://www.briggsandlittle.com/wool/knitsfromthenorth/gallery.htm. I go the suggested yarn and colors for the "Prairie Sunset" sweater http://www.briggsandlittle.com/wool/knitsfromthenorth/PrairieSunset.htm. Good gift for mother in law for Christmas.
Since the line at US customs to get out of Canada was hours long, we drove up to Vanceboro to cross back in. Good move as we were the only one at the border! Customs went into the camper to look around but they said they enter all campers. The border patrol people don't even blink at the amount of yarn in the truck. I think they are used to it since Vanceboro is so close to Harvey. Truck camper worked flawlessly again. Mileage is now up to 12.1 mpg fully loaded. This rig has been perfect for us, letting us get into small areas without the worry of trying to move or park a big rig. Time to plan the next trip!